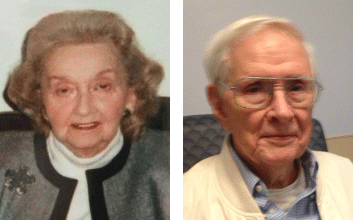 Wanda and Jerry died within 2 days of each other at the age of 92 and 93, and anybody who knew them was not surprised as the sweet couple was devoted to each other and married for 69 years. They met in college and were married soon after. She was a housewife and he was in the military, stationed in Japan during WWII and flew reconnaissance planes in the Korean War. They lived for over 50 years in Northern Virginia and were quiet, humble, and just loved animals. While they were never blessed with children, they always had rescue dogs or cats. 
Wanda was very sharp until the end. Jerry had some memory problems towards the last year but remained a most polite, gentle and good humored person. And Wanda watched out for him until her last breath. She died on a Monday and even though Jerry needed a note to remind him that she was gone, his heart was broken and he died that Wednesday. They are buried together (Jerry was cremated and his urn is in Wanda's casket) at the Bethlehem Lutheran Church Cemetery in Bendersville, PA. 
Jerry just loved John Wayne and the old West. Wanda loved crafts and gardening and they both loved music.  Wanda played the piano and instead of a dining room table, she had a Steinway Piano. And of course, they both loved animals and gave to many charities, including their generous legacy to IFAW.