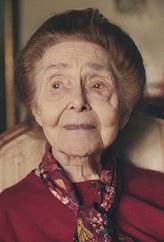 Growing up during the Great Depression, Catherine Brunson Luening's parents wanted her to be able to pursue her dreams, so they traded milk from one of their cows to pay for Catherine's music lessons.
Catherine was the oldest of four sisters. Her mother homeschooled the girls while her father struggled to keep his local bank in business. Catherine's talent and passion led her to study at Judson College and Julliard. She eventually earned a graduate degree from Columbia University, and there she met her husband renowned composer Otto Luening.
In 1963, Catherine embarked on her career as a teacher at The Spence School in Manhattan, where she founded the instrumental music department and taught piano to hundreds of young women until she retired in 2018 at age 96.
Catherine's decades-long support of IFAW began in 1983, and she faithfully supported our mission through annual gifts.
In 2013, we were honored to be notified of Catherine's intention to make a generous gift to IFAW through her retirement plan. We are grateful that Catherine chose to include us in her legacy, enabling us to succeed in our work for generations to come.